This month, we've had the pleasure of catching up with one of our wonderful brides, Michelle, who got married wearing the gorgeous 'Georgia' by Sassi Holford.  One of the reasons why we were particularly keen to hear all about Michelle's experience with us and all the tiny details from her big day, is because we've actually had the pleasure of seeing her mulitple times lately.  Not only did Michelle find her wedding dress with us, but it's now her sister Caroline's turn to go down the aisle, and we're thrilled to say that she has chosen to work with us too!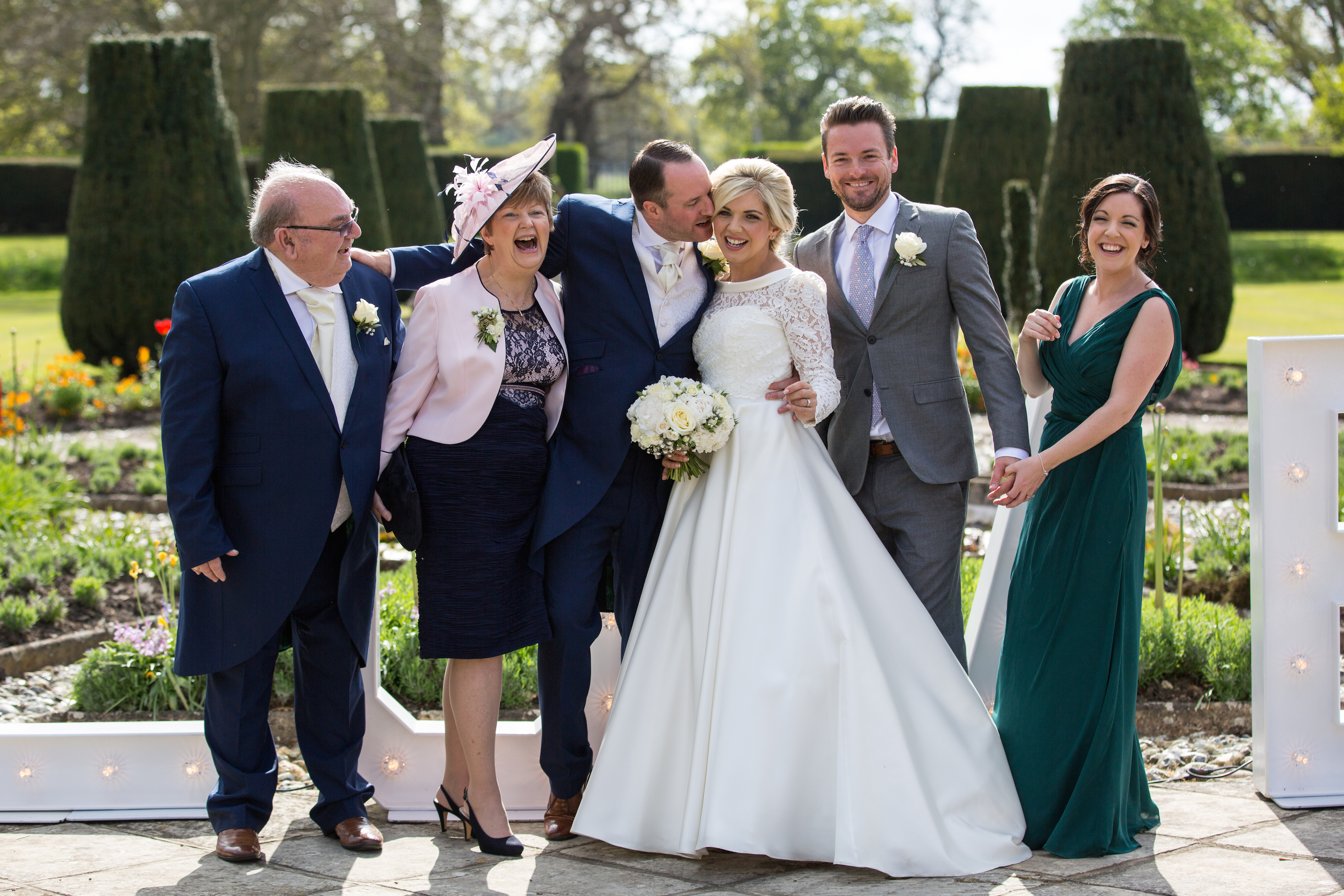 So without further ado, we hand you over to Michelle, to share her wedding story…
Tell us about 'the dress':
The dress was 'Georgia' by Sassi Holford and had a sweetheart neckline, satin bodice and a beautiful organza skirt.  To accompany the dress I wore a lace jacket for the church ceremony and wedding breakfast, which I took off after the speeches.  I also had a beautiful Jenny Packham belt with sequined detail which I put on to add some sparkle to the dress once I had taken the jacket off.  I loved the fact I was able to look very different for the evening just by removing the jacket and adding the stunning belt.
How did you know you'd found your perfect dress?
I had been to four other bridal shops and tried on some beautiful dresses but none of them had the wow factor.  Friends who were already married told me that when you find the dress you will know; until I had visited The Bride I hadn't experienced that feeling.  When I tried on my dress, I knew straight away it was the one.  I didn't stop thinking about it after I left the shop and kept picturing myself wearing it on the day and imagining how the photos would look.
I was very fortunate as I got to meet Sassi in the shop when she came for a designer day at The Bride.  She measured me for my dress and I really enjoyed meeting her.  She is an incredible dress designer and I feel honoured that I was able to meet her personally.
When you first started looking, did you have a clear idea about the type of dress you were looking for?
In my mind I always thought I would wear a more fitted dress rather than an A Line style.  I did, however, start my bridal shopping experience with an open mind and was happy to try on all styles.
What was it like going dress shopping with your sister Caroline, knowing you were both getting married within months of each other? 
When I started dress shopping Caroline wasn't engaged, so I had actually chosen my dress already.  When Caroline started looking for hers it was really exciting as I knew how much fun I had looking at different styles and it was great to be able to share her excitement and go through it all again.
When you were growing up, did you and Caroline used to talk about the type of wedding dress you might like one day?
I wouldn't say we talked about the kind of dress we might like but we would both talk about "the day we get married" and what kind of husband we would end up with, which was probably which ever celebrity crush we had at the time.
Why did you choose to work with us at The Bride?
As soon as I stepped in the shop and met the team I knew instantly that it was the kind of shop where I would like to buy my dress from, as everyone was so friendly.  What was even more touching was, a few months into being engaged and just after Caroline got engaged, our Mum was diagnosed with cancer and had to go through very intense chemotherapy.  Whenever we came into the shop with Mum who was not at her best,  the team would always ensure that Mum was comfortable and made her cups of tea, and I'd always be asked how she was when I phoned up.
When and where was the wedding?
Saturday 22nd April at Hengrave Hall in Bury St Edmunds, Suffolk.
Tell us about the morning of your wedding?  What was it like getting ready & putting the dress on for the first time? Who was there?  Were there any special moments/funny stories that stand out?
I was incredibly relaxed and had slept really well.  You hear of brides not sleeping the night before and being awake really early but I felt very relaxed.  In the morning my Mum, Caroline, who was my maid of honour and my other bridesmaid Tara had breakfast together in the Bridal Suite and then the hair and make up artist arrived. The morning did go incredibly fast especially once our photographer arrived.  Caroline played some old school tunes on Spotify which was a great idea whilst getting ready.
One very special moment whilst getting ready was seeing Mum looking stunning in her Mother of the Bride outfit.  After a very tough few months prior to the wedding, you would never have known she had being going through chemotherapy and lost her hair.
When my Dad came into the Bridal Suite once I had my dress on I had mentally prepared myself to not cry, but as soon as I saw my Dad he started crying and that set me off.  Thankfully the make up artist used very good waterproof mascara and was able to touch up!
How did it feel to walk down the aisle in your dress?
It felt very surreal but an unforgettable experience.  Seeing all of your friends and family turn around when you enter the church to look at you walk in is very emotional.  Initially, I thought I may have tears in my eyes when I walked up the aisle but, thankfully, I didn't and held it together.
Describe the rest of the day – what were your highlights (aside from actually getting married, of course!)?
1) Walking down the aisle and seeing Nick my husband turn around and smile.  When I got to the altar he told me I looked stunning and he loved the dress.
2) Seeing both my parents and Caroline looking so happy and proud of me.
3) Matt Stirling, the magician who performed during the drinks reception and wedding breakfast.  Our guests were completely taken aback over by his tricks and definitely made the day entertaining for everyone
Do you have any top wedding day tips for brides who are about to get married?
From my own shopping experience, my advice to all brides would be to try on different styles.  What you may think wouldn't suit you from the hanger will look very different on you.
On the actual day, I would say make sure you eat a good breakfast as it will definitely ease any nerves, not to mention eliminating the worry of feeling faint.
Make sure your makeup artist and hair dresser allow for plenty of time as you don't want it to be a rush right at the end.
Don't worry if something doesn't go to plan like timings for example as only you and your Husband will know.  Your guests will be none the wiser and are there to celebrate your special day.
What's your biggest piece of wedding day advice for Caroline?
Enjoy every single second of the day as it flies by so fast.  You are in a whirlwind from the moment you get ready and it is really important to take a step back and have a few moments with your Husband once you are married and take it all in.
How would you sum up your wedding dress shopping experience with us?
I am so pleased I chose to work with The Bride and was able to wear a Sassi Holford Dress.  The team at The Bride are absolutely fantastic and I would like to thank you all for making my bridal experience so enjoyable.  It is an added bonus I will get to experience it all again with Caroline's wedding in September.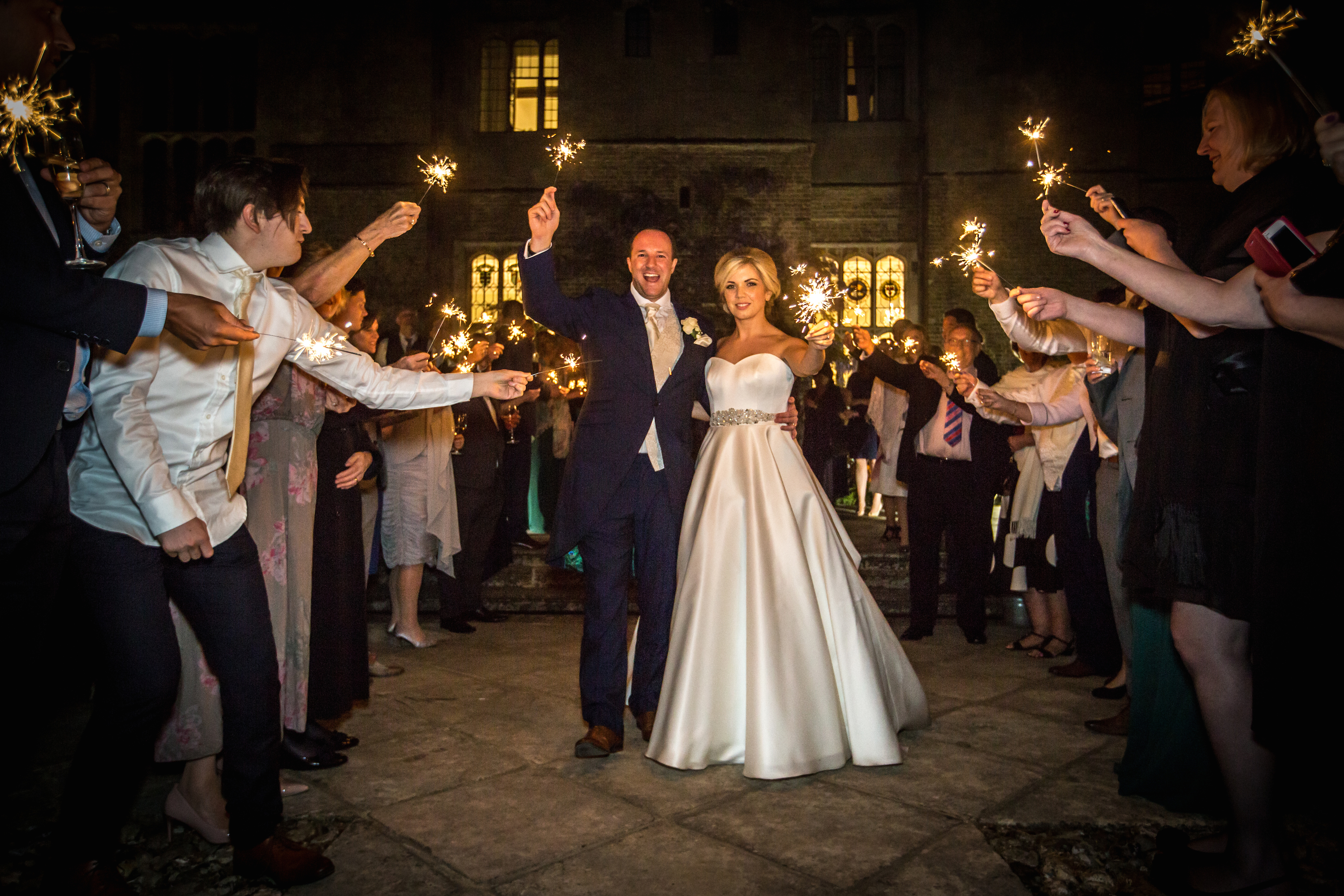 Wow, Michelle!  What a magical sounding day you had!  You made an absolutely beautiful bride in your Sassi Holford dress and we're so thrilled that we still get to see you, when you visit with Caroline in the lead up to her wedding.  It's always such a pleasure to have you and your lovely family in the shop, and we can't wait for the next installment, when Caroline heads down the aisle!