We can't quite believe that Christmas is on its way and next month is the start of a brand New Year…we have to say though, 2016 has been quite the year of celebration for us, as not only did we win the award for 'Best Retailer Customer Service' in the UK at the Bridal Buyer Awards, but we're also thrilled to be able to share that we've been announced as the winner of the 'Best Wedding Bridal Retailer' at the Four Counties Wedding Awards…..our award cabinet is certainly looking lovely and full (not to mention sparkly!).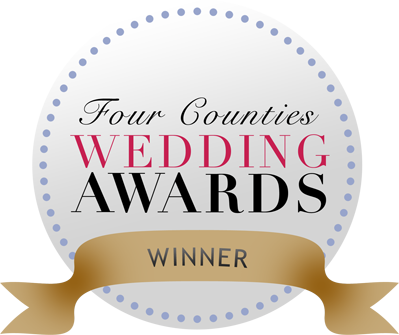 We absolutely couldn't have done it without each and every one of our wonderful brides.   We know that many of you took the time to personally vote and share your experiences with the judges and we cannot thank you enough.  What's so incredibly lovely for us, is that the judges at the Four Counties Wedding Awards have recently shared some of the comments they received from you about the service we provide…we were so touched reading through the feedback, that we just had to share some of it with you.  Here's just a small sample of some of the incredible comments:
"The staff are so helpful and full of great advice. They made the experience of choosing my wedding dress so special and continued providing exceptional customer service right up to me collecting my dress the weekend before my wedding. I can't thank Polly and Rani enough. – Beautiful shop; from the window dressing to the staffs assistance to the wedding day. Polly and her team were amazing. – They make me feel so special, like I am the only girl in the world getting married! The girls at The Bride make  you feel so welcome, you want to go back again and again!"
"The excellent customer service, wonderful time and care put into my wedding dress and all their excellent help finding my perfect dress – Excellent, personal, reassuring service and advice from Polly.  Superb attention to detail.   We have great expectations of the final product, I am sure the Bride team will deliver. – Great service, nice environment and really friendly – I visited 5/6 bridal shops in London, Herts and Bucks and I can honestly say that The Bride were the most professional. From my first visit, right up to ordering the dress, Polly and Nikki were so helpful and friendly and made me feel at ease and advised me on every aspect of the dress. I could not wish for a better experience of wedding dress shopping as The Bride made it so enjoyable.  Exceptional is too minor a word"
"The after care sales was also great.  I would highly recommend anyone to shop there, as they really couldn't do enough for you. – The Bride is truly exceptional for customer service, attention to detail and the array of dresses available. Polly and Amy could not be any more genuine and were able to identify without hesitation what would work best for me."
"I live in Plymouth however used to live in Hertfordshire, when we got engaged I made sure I would come back up to St Albans to go to The Bride for my wedding dress, having spent many years walking past their beautiful store. I am so glad I did. Worth every mile. – Supporting me every step of the way to fine the perfect dress. – Penny and the team are amazing – absolutely impeccable service, was a dream dress shopping experience. And Rani their super-talented seamstress made sure my dress fitted like a glove! Would recommend to anyone, and have repeatedly! – A very personal service to make my day extra special – The service and quality of products was absolutely phenomenal"
…And now you see why we can't stop beaming with pride!  It's honestly the best Christmas present to read such heartfelt comments.  Thank you, thank you, thank you once again – we continue to do what we do as it truly is such a pleasure working with such amazing brides and having the great pleasure of being just a small part of each bride's memorable day.