The wedding is over… what happens next?
After the wedding is it likely that you will look at your dress and think 'what happened? How did it get so filthy?'  We always say a dirty dress is the sign of a good wedding!  Once the ceremony is over and the party has started we want you to let loose and party hard with your friends and family –  not worry about the dress!
However did you know that we can help you to restore it to its former glory?  Whether you are wanting it cleaned and ready for long term preservation, or if you are thinking of selling it on we can help you get it back to a wearable condition and make it look the way it did when you first put it on.
We work with a leading wedding dress cleaning specialist company called Boxed Bridal, and they are fabulous. I can honestly say they care just as much about your wedding dress as we do!  We want you to have the most fabulous day, create memories that last a lifetime and be able to treasure those memories forever.  And this is exactly the ethos of Boxed Bridal too.
Early this year I visited their showroom and workrooms in Southampton, and it was really very insightful.  Previously only ever having view dry cleaners from over the counter in my local supermarket I had no idea the level skill, knowledge and care that goes into restoring and cleaning wedding dresses.
Each fabric is tested before cleaning commences, sometimes dresses have to be taken apart to clean separately (if the fabrics react differently) and then seamlessly put back together, so you would never know.  Sometimes dresses have to go through a number of cleaning stages in order to get the best results.
What I realised is that the same care and attention that is shown to your dress whilst it is with us, in then replicated even after it has been worn.  The team do not give us easily when it comes to stubborn stains such as mud and the dreaded red wine!
Nickie the owner of Boxed Bridal says
'Our service is like no other. Your wedding day is one of the most special days of your life, and we want to help brides treasure those memories by giving their wedding dresses the specialist treatment their deserve. Having your wedding dress cleaned and preserved by us at Boxed Bridal will leave you stress and worry free, knowing that one day when you choose to get her out of her box again, she will look as beautiful as she did on your big day'
What I also admired about Nickie's approach is her honesty.  The team aim for perfection, every time, however there are some instances where fabrics will not be able to be cleaned without risk of damage to the rest. Nickie says 'communication honesty and setting expectations are key to providing the best level of service – and we do just that.  Providing each of our brides with detailed before and after photos, and cleaning updates throughout if required.
So lets show you some of the results that we are talking about.  These are dresses that we have sent to Boxed Bridal, and the way they have returned.  I think you will agreed that the results are pretty outstanding!
Below you will see before and after photos of  two dresses we have recently had cleaned.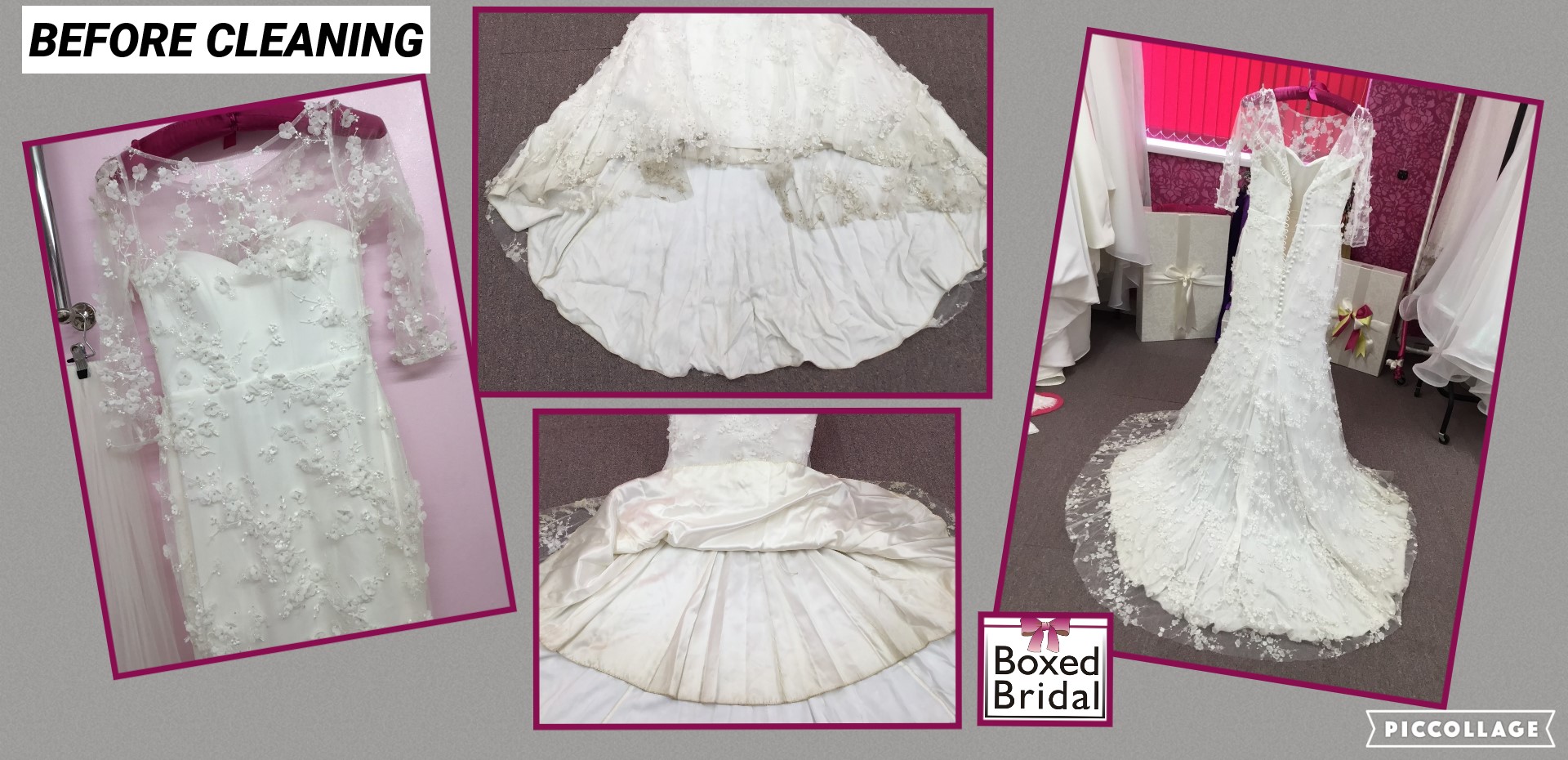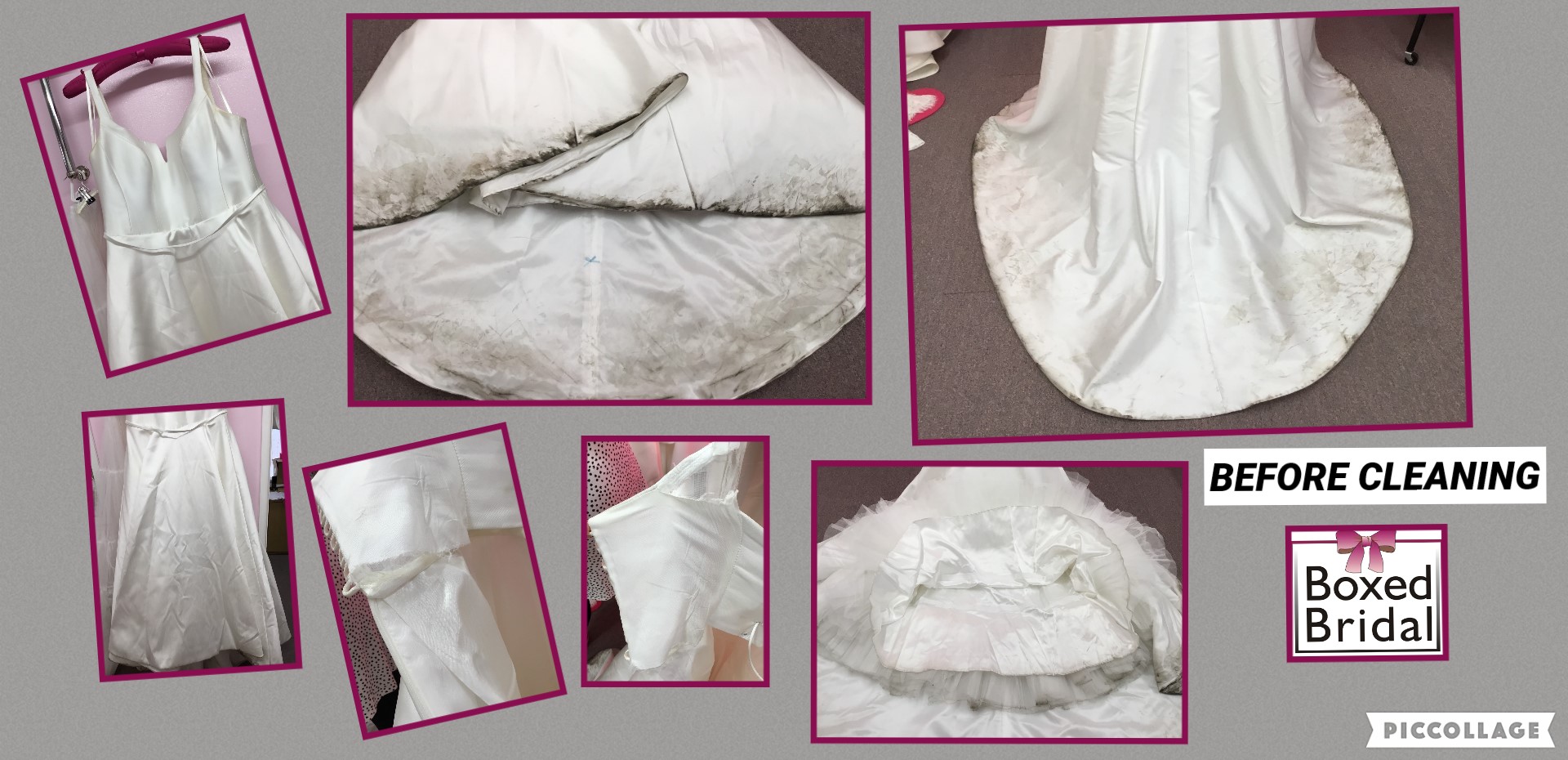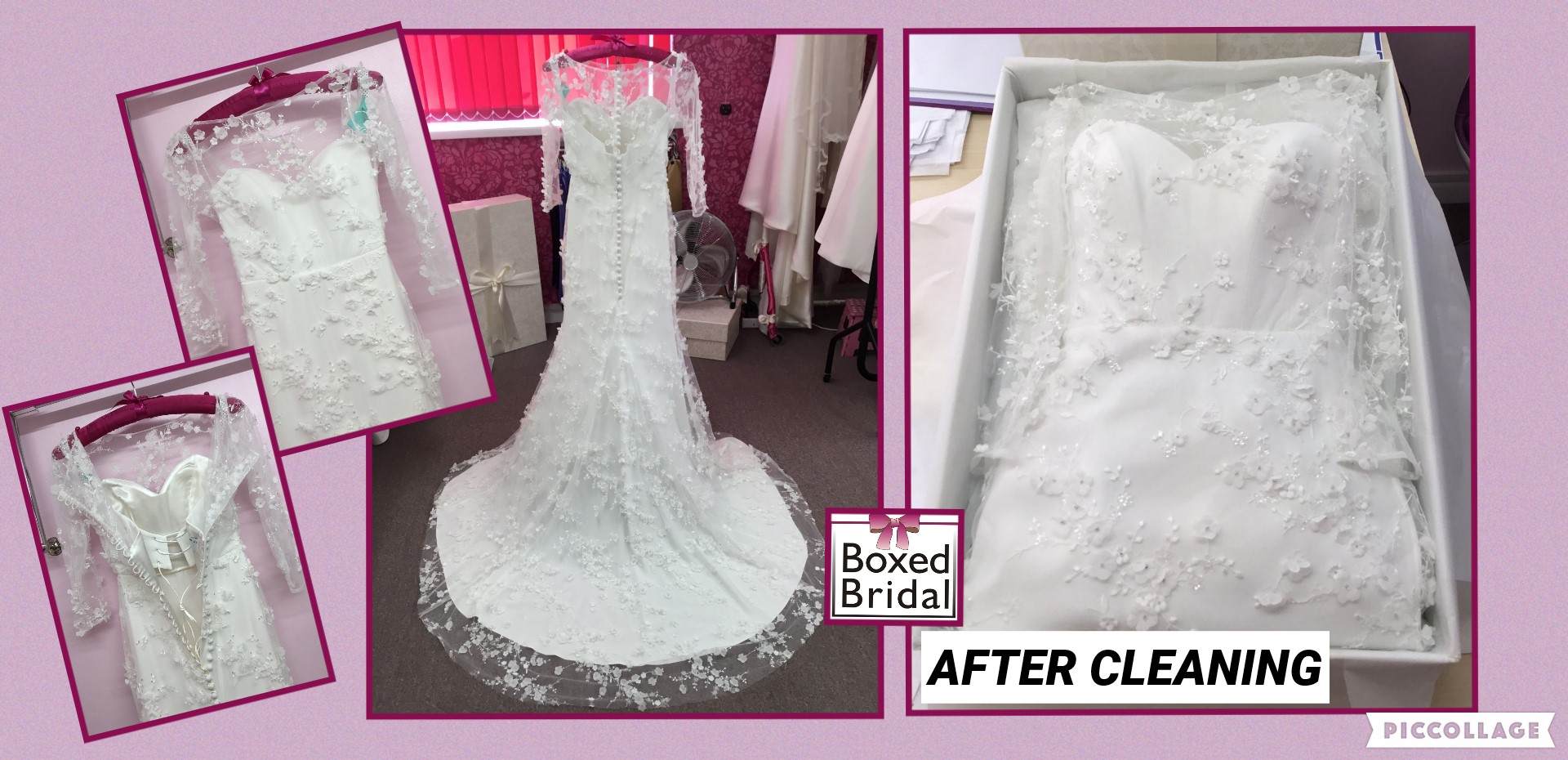 Although Boxed Bridal are based in Southampton that doesn't mean you have to be local to benefit from their amazing service –  that is where we come in.  As we partner with them, all you need to do it get in touch with us, drop your dress off to us and we will do the rest.
It really is that simple!  To find our more about the packages available get in touch with us now.