In the lead up to Mother's Day, we thought it would be lovely to hand this month's blog over to a fabulous mother and daughter duo…
…So without further ado, we'd like to introduce you to one of our beautiful brides, Jennie, and her wonderful mum, Vanessa, to tell us all about their experience of dress shopping together…not to mention Jennie's gorgeous wedding day itself!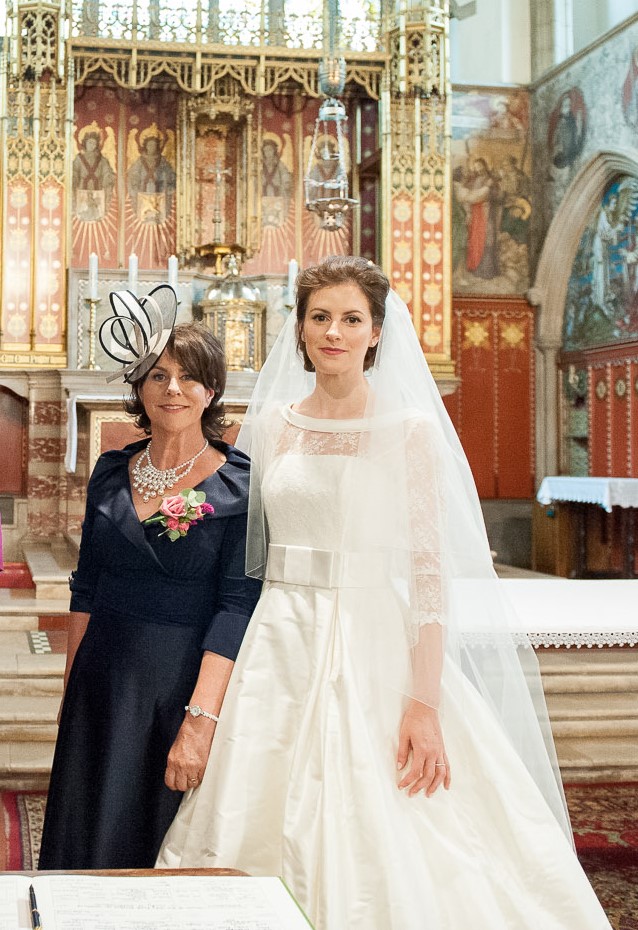 First things first, tell us about the dress!…
Jennie: My wedding dress was 'Paola' by Sassi Holford.  It is a strapless dress made from the most beautiful silk, with a box pleat skirt and bow detail on the waist. I wore the Paola lace jacket during the day and took it off the evening and teamed it with a very sparkly necklace.  I absolutely loved wearing it and, as silly as it sounds, I really felt like a bride wearing it.
Vanessa: Jennie tried on several gorgeous dresses at The Bride but I think I knew it was the one when I got a lump in my throat at the sight of my beautiful daughter looking absolutely perfect in just the right one. In fact, we were all quite choked, including the lovely lady who was helping with the fitting!
Jennie: I arrived certain that I wanted a particular dress, only to try it on and find it wasn't right. After describing the kind of dress I had in mind Polly suggested 'Paola' by Sassi Holford. Even on the hanger I loved the large skirt and lace top. When I came out of the dressing room and my Mum and sister burst into tears I knew it was the one.
Vanessa: From that moment, through the fittings, selection of the veil, shoes and accessories to bringing the dress home, we were so well looked after and confident that the choice was right. At her final fitting there were real tears, seeing the hopes and dreams realised in one perfect vision.
Why did you choose to buy your dress from The Bride?
Jennie:  I'd always thought The Bride looked such a lovely wedding dress shop so once I was engaged I booked an appointment straight away.  Getting your wedding dress is such an important part of the run up to the wedding. But it's not just a case of finding a dress and then wearing it on the day. You have multiple trips to the shop for fittings and trying different veils and accessories so its crucial that you will have a good relationship with the people organising your dress and that you have absolute confidence in them. I never felt rushed or pressured by Polly and her team. They kept me to date with the progress of my dress and were flexible with their appointments. It was always such a pleasure to come for fittings and there was always a glass of champagne and a tissue on hand when things got emotional.
Vanessa: When you hear your eldest daughter is getting married, you catch your breath and set forth tentatively towards the 'big day'. Lots of ideas for dresses were shared and commented on but you need the careful and honest opinion, not only of those who love them and know them best, but professionals who can discuss options, alterations, accessories and raise relevant points that you may not have considered in the excitement of it all.
Jennie had an idea of the style she wanted and we located bridal shops that stocked some of the ranges. When we arrived at 'The Bride' in St Alban's and were greeted by a warm welcome in a beautiful shop, I felt very confident that, not only would we find 'the dress,' but we would also have a lovely experience.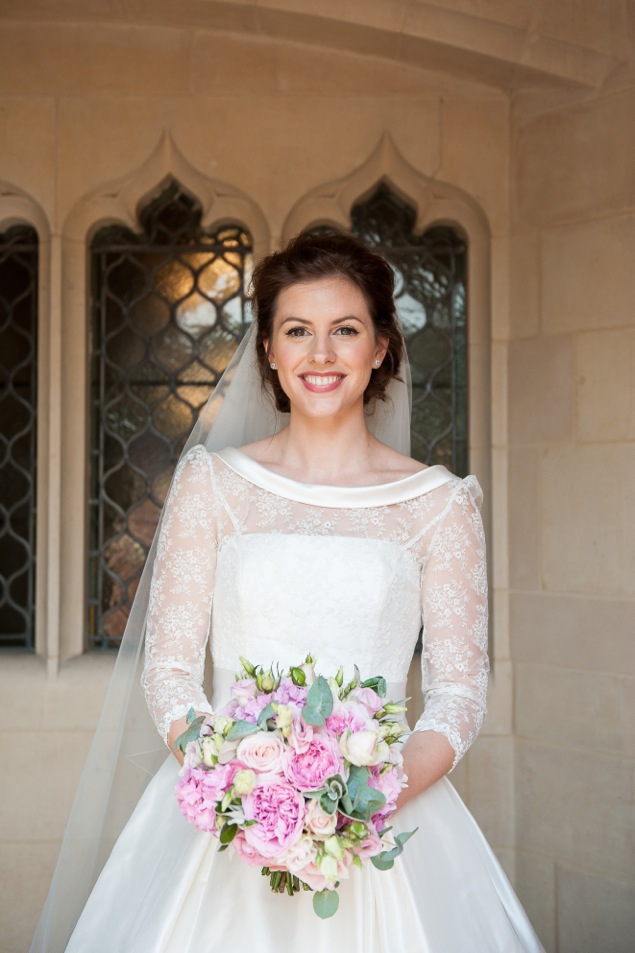 When and where was the wedding?
Jennie: We got married in our childhood home church in Watford on the 26th July 2014. It has a lot of history for us as we were both christened and confirmed there. Our reception was at the beautiful Moor Park Mansion. The decoration is incredible and the double-height main room turned into an impressive dance floor in the evening.
Vanessa: On the wedding day, it was so wonderful seeing her future husband looking at her with such love as she walked down the aisle with her very proud daddy. The magical wedding day unfolded in the graceful setting of Moor Park and Jennie continued to look fabulous in her perfect dress, surrounded by love and joy.
What was the morning of the wedding like? What was it like getting ready? Who was there? Were there any special moments that stand out?
Jennie: I stayed at my parents' house and got ready there with my bridesmaids.  There was a lot of excitement and fun with all the girls getting ready. I also had an incredible makeup artist and hair stylist. Before my bridesmaids and Mum left for the church they gave me a photo album Edward had created of all our holidays and memorable moments together with little messages. I couldn't actually look at it properly otherwise I would have been a crying mess before I even got the church.
Jennie, if you had to pick, what would be your top 3 moments from the big day?
1) Walking down the aisle with my Dad and seeing my husband-to-be at the end seeing me in my dress for the first time. As obvious as it sounds I absolutely loved the wedding ceremony and getting married. I remember standing at the front of the church with our family and friends behind us thinking 'this is it, I'm getting married!'
2) The day was such a whirlwind; it was great for me and Edward to have some time together during our photos and absorb the day.
3) Something that was particularly special was a surprise video my sister put together from all of the guests. After dinner our toastmaster announced there would be an additional speech and Emma introduced the film that she and our guests had made to congratulate us. Our family and friends had provided clips of them singing along to Bruno Mars' 'Marry You'. We were so touched by the effort everyone had gone to and the time it must have taken Emma to put it all together. Best of all it's something we can keep and still watch now.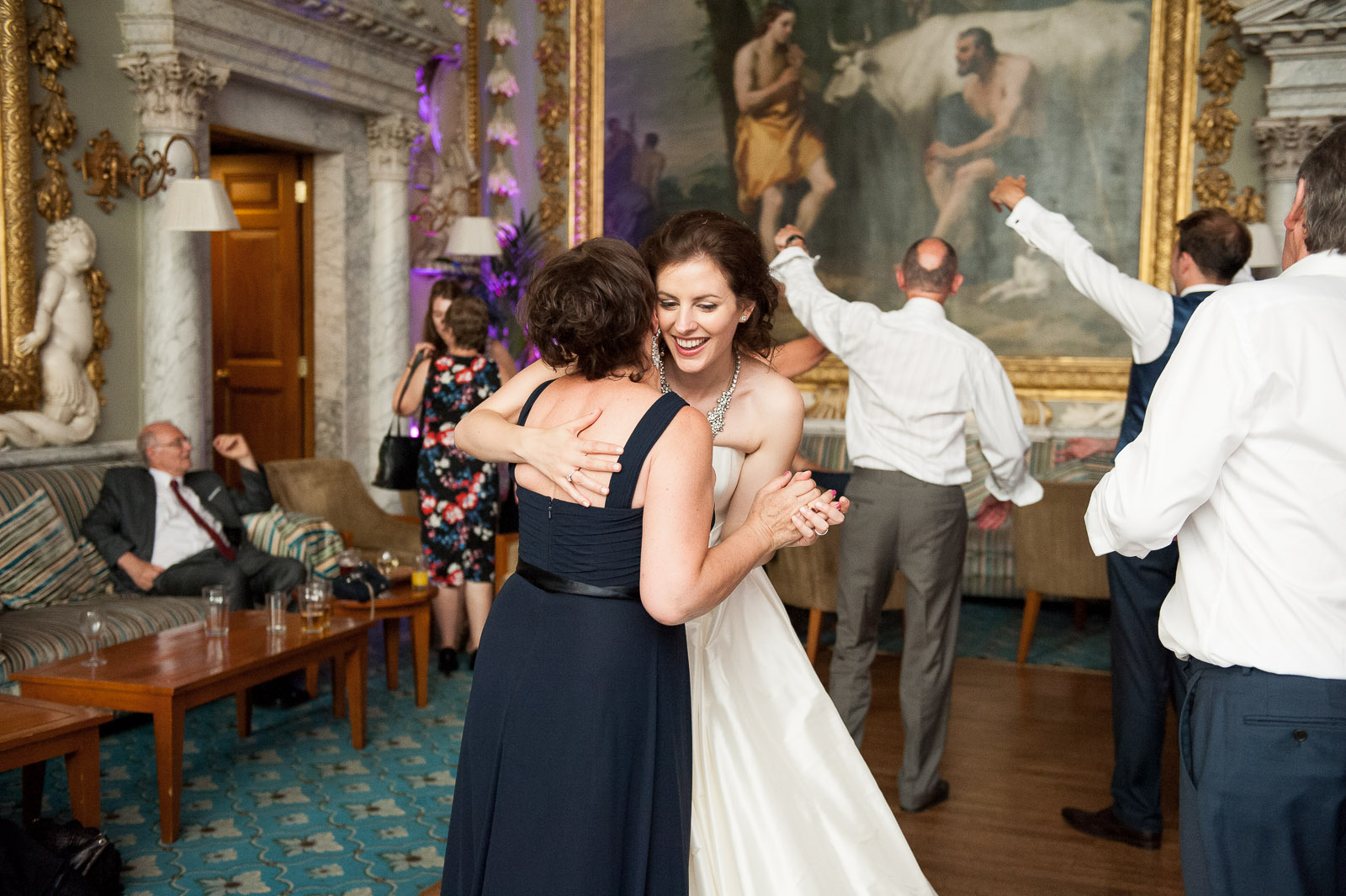 Ladies, thank you SO very much for taking the time to share your wonderful memories with us.  It looks as though it was the most magical day and Jennie looked stunning in her Sassi Holford dress.  It was such a great pleasure getting to know you during your time dress shopping with us and we wish you all the best wishes and happiness for the future. We hope you have a very Happy Mother's Day together and enjoy sharing the memories from Jennie's big day.
If you're one of our brides (past or present!) and would be interested in featuring in one of our blog posts, just like Jennie and Vanessa, get in touch by sending us an email: mydress@the-bride.co.uk – we'd love to hear from you! x