Lead Times – All you need to know.
One of the most common questions we get asked by our brides is: 'When do I need to order my dress by?' and this answer all depends on the dress you are ordering and the fitting service you are opting for.
We are here to help you through the process, guide you without pressure, and make it as seamless as possible.
Brides do need to be aware that lead times will vary by designer and also by the shop they are buying from.  We often hear brides panicking that they haven't ordered their dress a year before their wedding date. However, for us at The Bride this isn't a problem.
Below I will share details of our lead times, and some top tips on when it is the right time to commit to a dress.
Ideally we like to have between eight and ten months with every bride.  We receive your dress from the designer 2 months before the wedding in order to ensure we can schedule fittings and allow plenty of time for alterations.  However if needed we can absolutely help you with you dress if you have less time –  without comprising on the service! We have been known to turn around a dress is 3 weeks before!
At The Bride all of our designers are British, and the dresses are made in Britain which means generally speaking we don't have rigid lead times. However, this all depends on the designer, for instance if you have your heart set on a Temperley wedding gown they take 4 to 5 months from order to delivery.  It is worth noting with our other designers we may have to charge a rush order if the dress is needed within 4 months, but this all depends on the time of year and designer.
Realistically, 8 to 10 months before the wedding allows us plenty of time to schedule all fittings, appointments and the more time we have, the more flexible we can be in terms of times/ dates available for us to see you.  It also means that the overall process is not stressful for any party involved.
There is also a common misconception that you can start shopping for your wedding gown "too early", shopping for a wedding gown is a personal experience and we would like to reassure you that it is not entirely uncommon for a bride to be to find their dress 12-18 months prior to their wedding day, we are more than happy to work with this time frame.
If you getting married next summer now is the perfect time to be ordering your dress.  So if you know the dress you want, do it – get in touch and we can get it ordered.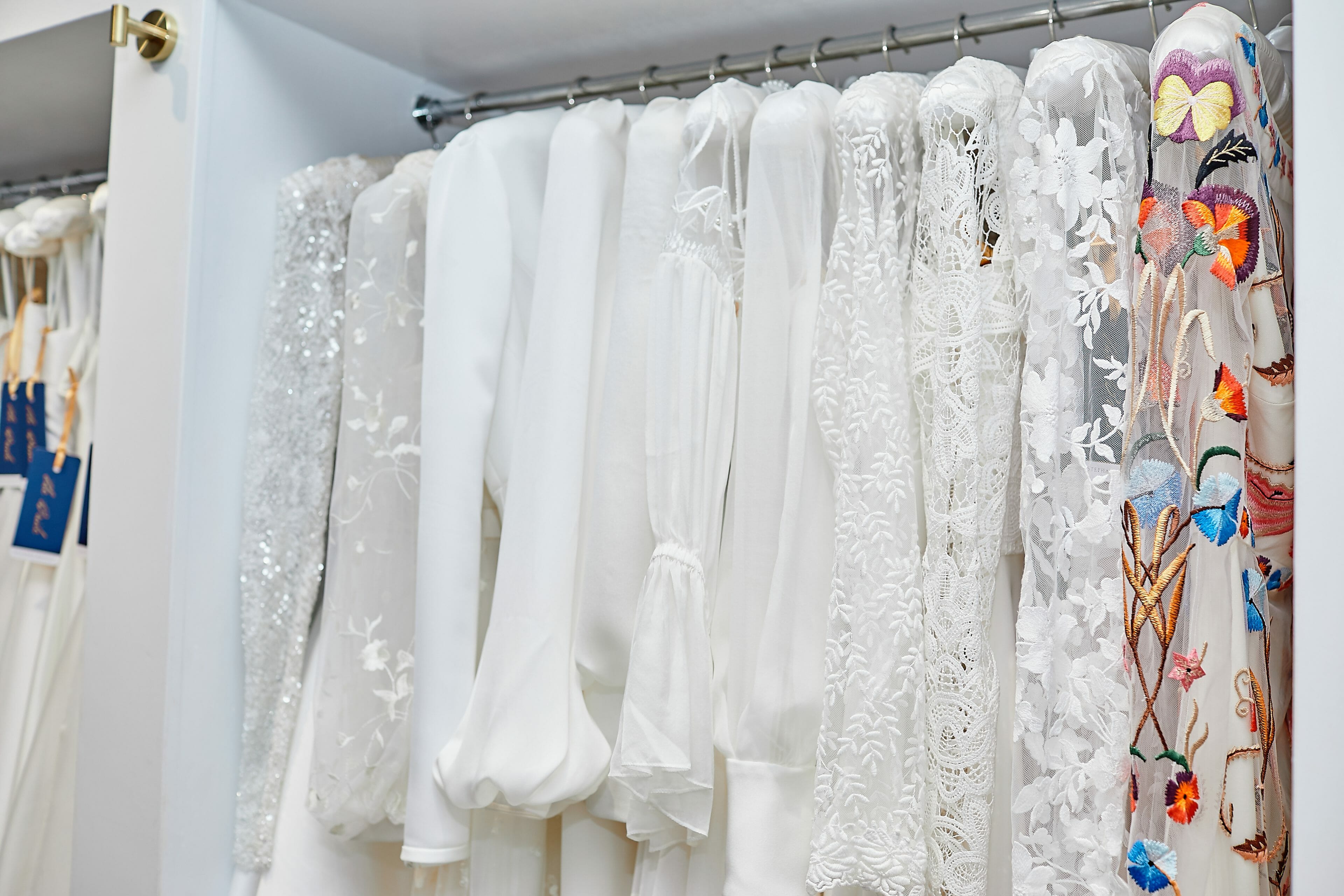 Short on time? Doesn't mean short on choice
However, if you are a spring 2024 bride, and have less time – please do not worry we can still help you find you the dress of dreams!
We stock some of the best British designers around, and all of our dresses are made here in the UK. Therefore it does allow us to be more flexible with production timelines because we don't need to worry about importing processes etc.
If you are a getting married in early 2024 our only advice to you would be that you need to be decisive and focussed in your search. Research is key.
Short time on time, doesn't mean short on choice.  There are still many options available:
Buy 'off the peg' – We have a selection of dresses that are hanging on our rails right now that can be purchased today for you to take home.  Throughout the year we are continually adding to this range of dress, and our current collection can be found on our sample sale page.  To find our more about our off-the-peg range and to book an appointment to try them on, please do get in touch.
Standard Size – We can often get brand new dresses made in standard sizes quicker than if it was made to measure (to your exact measurements) therefore this maybe an option if you have your heart set on a dress and we don't have time to offer made to measure.  All it will mean is that more alterations may be needed to the dress, however we will work with you to ensure these can be carried out by our highly experienced in-house seamstress.
Made to measure – If time is very limited but you still want a full bespoke made to measure dress then we can do this (we never like to disappoint). However, it may incur additional rush order charges.  These are all dependant on the designer of the dress, and the timeframe we are working with. Everything is possible when it comes to getting you the dress that you want!
If you getting married next summer now is the perfect time to be ordering your dress.  So if you know the dress you want, do it. Get in touch and we can get it ordered.
The main thing to remember is not to feel pressured to buy a dress because of a timeline.  You do not want to make the wrong decision because you felt pressured.  However on the flip side if you know you have found the dress –  do not hang around. Go with your gut and don't overthink it!  Whatever your timeline we are here to help!