Many of our brides tell us how shopping for their dream dress is one of the best parts of the wedding planning process. It's true, that putting on a wedding dress for the first time is a pretty exciting moment, however, there are equally so many things to think about and a bucket load of questions which many of our brides, quite often (and rightly so!) need to ask.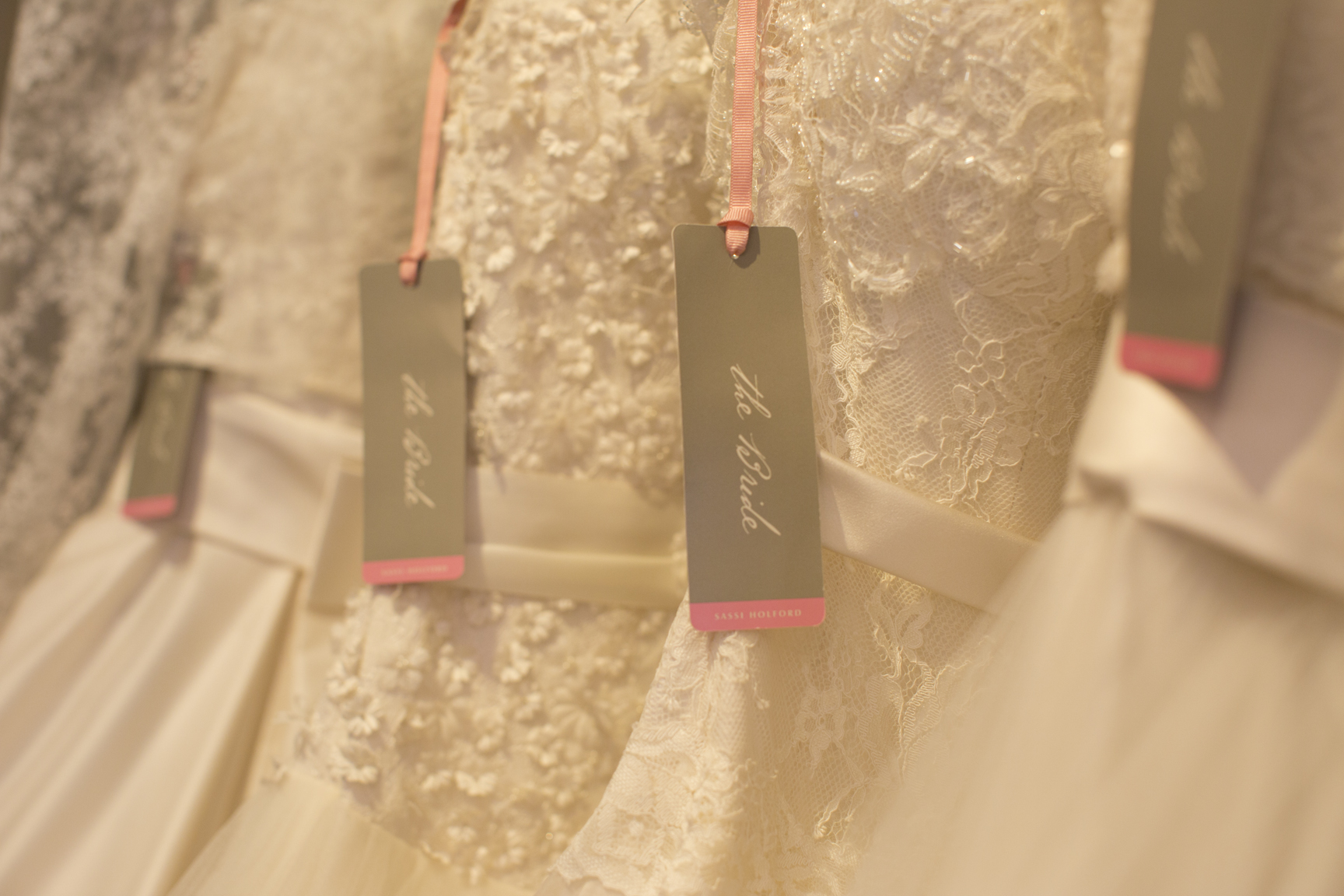 Over the past couple of weeks, we've been taking note of the most frequently asked questions we get asked, both in the shop and on facebook & instagram, and have popped them together in, what we hope will be, a helpful little blog for all our brides-to-be!
So here it goes….
Q: How much research should I do about different types of dresses before coming to try them on?
A: It's always good to have a think about the type of dress you imagine yourself in on your big day before coming for your appointment, however, we would always say to try not to get too fixated on a particular shape, as the best way to learn about the different types of dresses is to keep an open mind and try a variety of styles during your appointment with us. After trying on a selection of different dresses, you'll soon get to know what does and doesn't work for your body type.
Q: How much should I budget for a wedding dress from The Bride?
A: Our dresses start at around £2,500 and go up to approx. £4,000. At The Bride, we're extremely proud and fortunate to work with the four top British wedding dress designers; Stephanie Allin, Sassi Holford, Suzanne Neville and Jenny Packham. Each of our designers are highly acclaimed names in the bridal industry and the price of their dresses reflect the quality of materials used for their beautiful creations and, of course, the care and expertise that goes into each and every design.
For smaller budgets, we also recommend asking us about our sample sales. From time to time we sell off our size 10-12 ex-display sample dresses to make room for new designs we're expecting in the showroom. Often these dresses are half price or less and are a brilliant option if you're looking for a designer dress without the designer price tag.
Q: How far in advance do I need to order my wedding dress?
A: This really depends on each individual bride. The majority of our brides order their dresses about 9 months to a year in advance of their wedding day so that they can visualise what they're going to look like before they have to start making other styling decisions, such as bridesmaid dresses, the groomsmen, flowers etc.
As soon as you order your dress, we get in touch with your designer to book your dress into their production schedule. At this point, we're able to put together a timeline to help you stay organised with fittings. We'll tell you all the details you need to know, from when you need to come in to be measured and when your first fitting will need to be scheduled for. It is a detailed process, however you don't need to worry, as we manage everything from beginning to end and are there for you every step of the way.
Q: Help! I'm getting married in less than 4 months and I still haven't found my dress – can you help me?
A: In an ideal world, we recommend not leaving it any later than 6 months before the wedding to order your dress. That being said, we understand that there are some circumstances where brides are struggling to find the right look, or are getting married with little time to spare. If you have just four months before your wedding, don't panic – we'll invite you in to discuss your options and we'll always try our best to help you find something that you feel amazing in and can be turned around quickly by the designer.
Q: What does 'made-to-measure' actually mean?
A: There's all sorts of new wedding jargon you learn when buying a wedding dress! A made to measure dress is cut to your exact measurements, and ladies, we're not just talking bust, waist and hips…we'll measure the length of your torso, the width of your shoulders etc, so that your dress fits you, and nobody else, absolutely perfectly. It's not a case of ordering your dress in the nearest size based on your measurements, it's all about having a dress tailored to you…and that's pretty special.
Q: What do I need to wear/bring with me to my first appointment?
A: We recommend wearing light or flesh coloured underwear. There's no need to bring shoes (unless you want to!) as we have plenty of pairs in all sizes for our brides to pop on when trying the dresses.
You don't need to bring anything else with you, except possibly a few thoughts on what you initially might be looking for. Don't worry if you're feeling a bit overwhelmed and don't know where to start though, as we're here to guide you through the whole process and help you find something that you feel comfortable in and, most importantly, excited about wearing on your big day!
Do you still have an un-answered question? If so, please do get in touch by emailing mydress@the-bride.co.uk and we'll be more than happy to help. We look forward to welcoming you soon! x